The Terafinal is the climax to an annual chess competition which is open to all school-aged children in the UK. Starting with 40,000 players, they compete through various stages with names like Megafinal and Gigafinal, earning titles like Supremo and Ultima until just 2% remain for the privilege of battling it out in the Teras.
The format changes a little each year, but this time there were five sections from U8 to U18 with a prize pot of £10,000. What other game gives children the chance to win this kind of money? (Wait – Fortnite?) Needless-to-say, no-one was there for cash – it was all about becoming the Strat and getting the chance to take away trophies that were nearly as big as some of the players.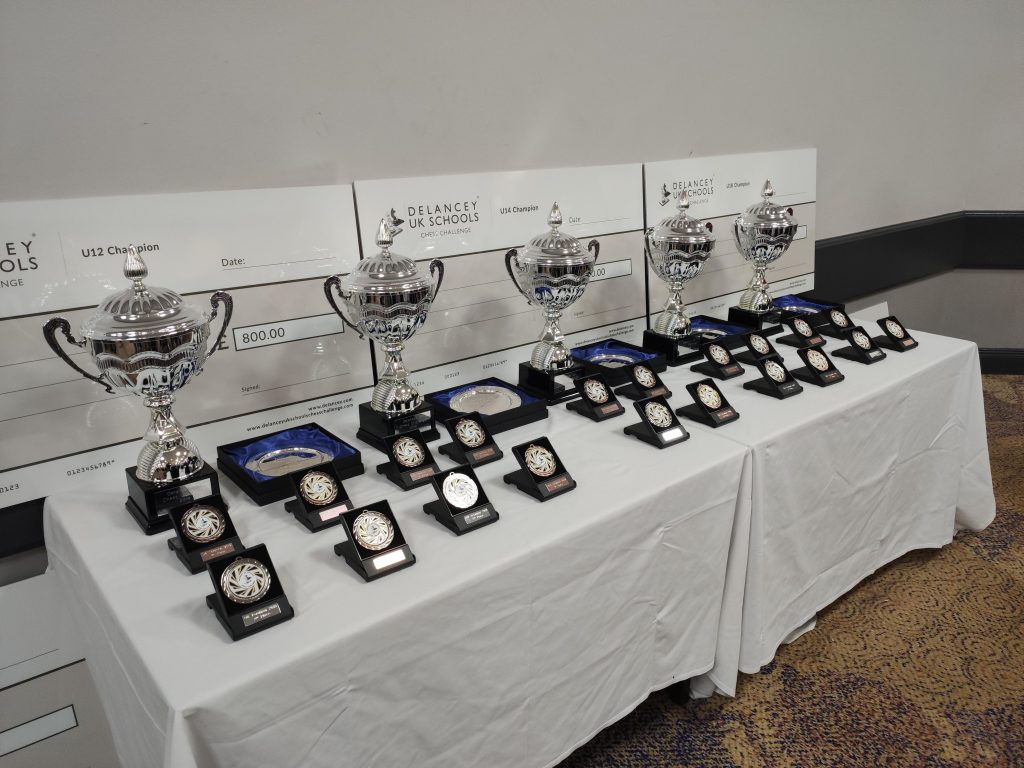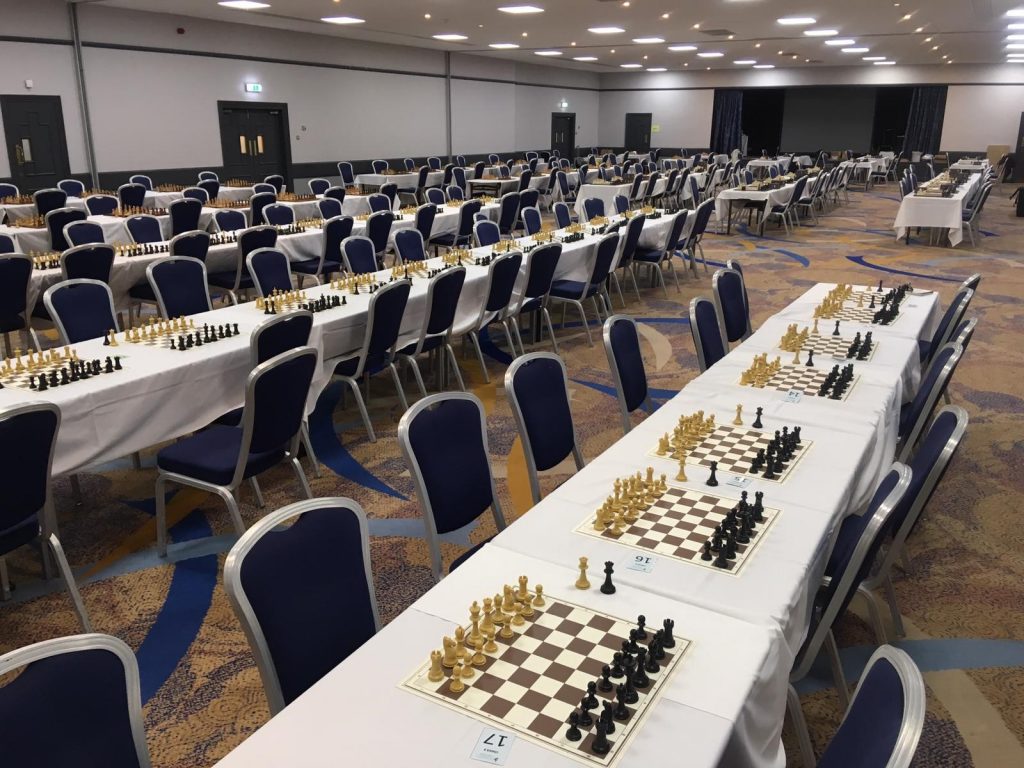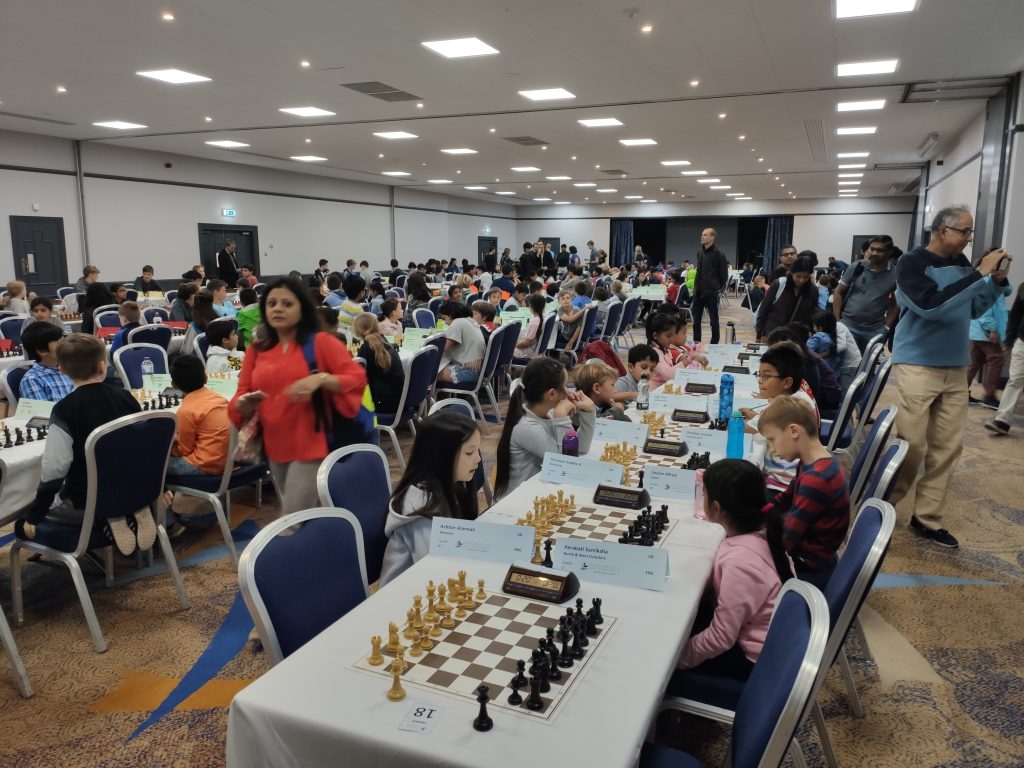 The Teras took place over two days and was quite a glamorous affair in a nice hotel – a contrast to most junior tournaments which tend to be held in school halls with varying levels of salubriousness. So, we knew we were in for a treat.
The Bristol region was fantastically well represented including Oli in the U18s; Chirag, Toby, and Aron in the U14s; Matthew U12; and Gabriel in the U10s. I may be stretching the definition of Bristol a bit, and apologies to those I've missed, but I reckon that's at least a 3x over-representation based on what you might expect from the population (calculation supplied on request). When you add in the many Bristol juniors who just missed out by the odd half point or so in the preceding events, it looks like Bristol has a cheery future ahead.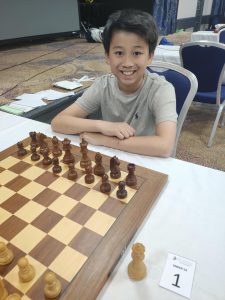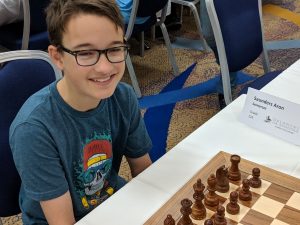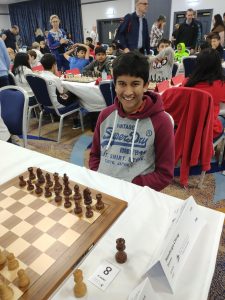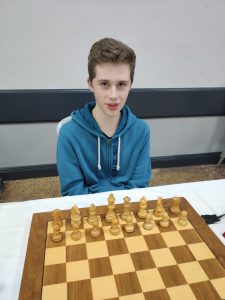 Previous
Next
Everyone did very well, with Chirag even bringing some of the money back to the region's economy by gaining an extremely commendable 4th place in the U14s, having drawn against the eventual winner. Oli had a notable win too against Alex Golding (206) in the first round (https://chess24.com/en/watch/live-tournaments/2019-ukcc-terafinal-u18/1/1/3) – he had a particularly cunning tactic which won the exchange from move 23 (so I am told).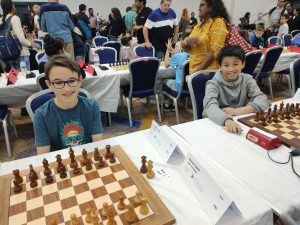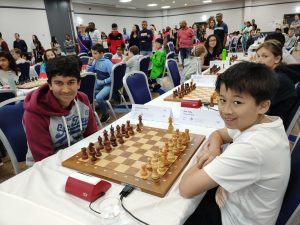 As a novice parent, I must admit the Teras did kind of live up to its name. A sometimes-terrifying experience, made much worse by the live stream on Chess24, meaning that we could see move by move what was happening – along with a live computer assessment of how things were going. It was all meaningless to me of course. On more than one occasion I had to correct Aron when he came out of the hall to tell me that he had won or drawn, pointing to my all-knowing phone which would say he had run out time, or had resigned 20 minutes ago. But of course, Aron was always right. Maybe we're not quite ready for computer-assisted arbiters just yet!
But despite those brief moments of terror, it was overall a very enjoyable experience for the parents. We even had the pleasure of listening to commentary from GM David Howell and IM Adam Hunt, who did a splendid job of explaining impenetrable positions to those of us with only very basic understanding of chess. It looked like the children had fun too. But maybe it's best we ask one of them – over to you Aron…
As it was my first ever Terafinal and I was seeded 24 out of 26, I was quite daunted about playing 10 rounds of rapidplay against the strongest U14s in the country. After losing my first game by blundering pawns in the opening and then blundering away an equal Rook and Pawn ending, I was expecting the rest of my games to go the same way. However, I managed to win my next two games,  which put me on 2 points out of 3. I then drew against a strong 160, before finally losing my last 2 games of the first day, putting me on 2.5 out of 6.
After a fairly even draw for my 7th game, I managed to win a rook ending in my 8th game, putting me on 4 points out of 8. However, after losing to a knight sac in round 9, I had to win my last game to achieve half points, which had been my goal from the start. Luckily, I spotted a piece-winning tactic in my last game and converted it to a win. The Terafinals were over, and I had gone up 9 spaces on the ranking list from my initial seeding.
No chess report would be complete without a table of results. It's a little hard to unpick from the official report https://www.delanceyukschoolschesschallenge.com/terafinal-2019-results-report/; the top 4 from each section entered a knock-out phase, but are still included in the Swiss table. Anyway, it ended up looking like this:
| | | | |
| --- | --- | --- | --- |
| Gabriel Keech | U10 | 5 / 10 | |
| Matthew Timbrell | U12 | 5 / 10 | |
| Toby Kan | U14 | 4.5 / 10 | |
| Aron Saunders | U14 | 5 / 10 | |
| Chirag Hosdurga | U14 | 6.5 / 10 | 4th place |
| Oli Stubbs | U18 | 5.5 / 10 | |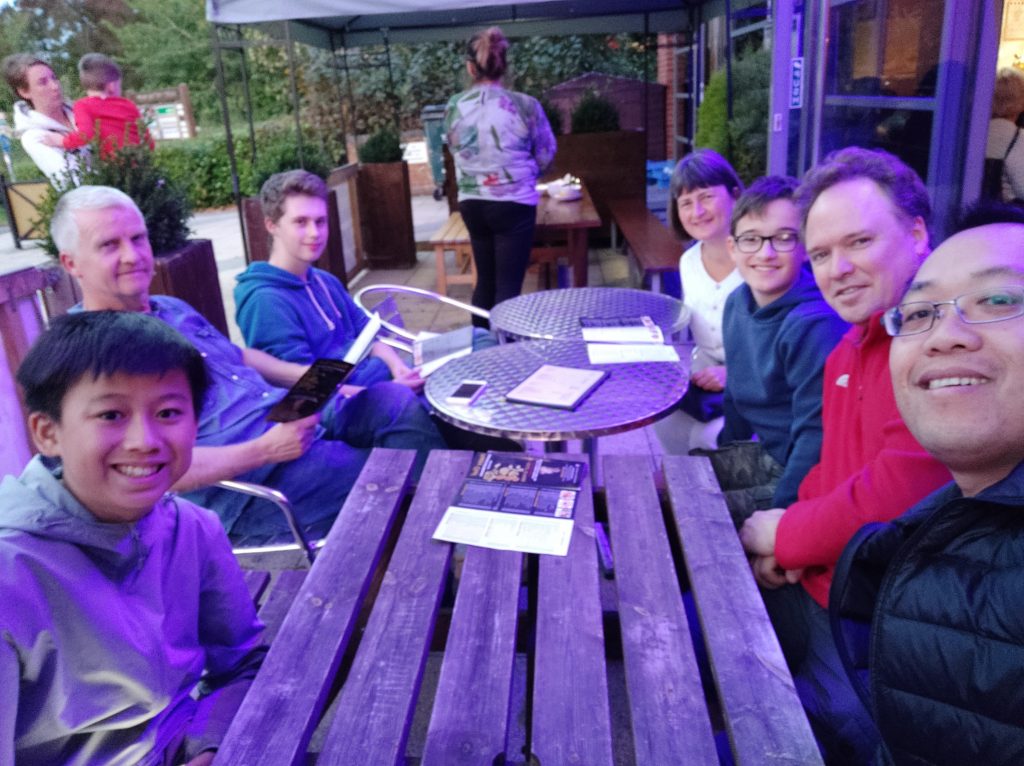 What a fantastic set of results against the top juniors in the UK – well done to all!
Report by Per Saunders and Aron Saunders