It was a busy weekend of junior chess at the West of England and South Wales Team Championships.  This years tournament was held at Chepstow and had strong teams from Gwent, Glamorgan, Wiltshire and Devon.  There was a large contingent of Bristol Juniors too, proudly representing their respective county teams, Gloucestershire and Somerset.
The newly formed Gloucestershire U18 team were making their debut, and what a debut.  Jonathan, Robert, Ian, William, Jack and Oli really put on a show winning the section and crowned 2019 champions with 14 out of 18 points, a really impressive performance.  Well done all, including Ian, Will, Jack and Oli from Bristol.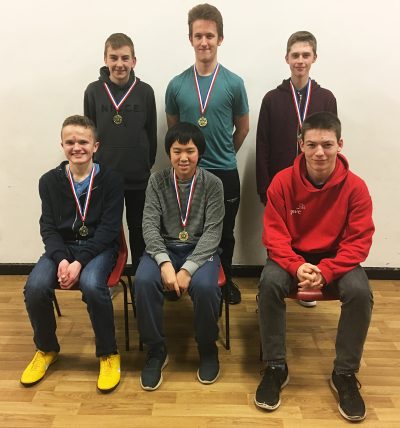 Chriag, Toby, Yuvraj, Fedor and Maria were representing Somerset U14s, all on the top 5 boards and helped Somerset seal the crown with a very convincing total of 22/30.
Jonathan was playing the in U11 section for Somerset who were unlucky missing out on top spot by 1.5 points.
Finally, but definitely not least, Dwitti playing for Somerset U9 helped lead her team to a storming victory.
An amazing weekend for junior chess in the South West. Well done all !