Now that the British Chess Championships has finished, here is a quick update on how our juniors performed.
Their achievements are as follows :
Oliver Stubbs

U2050 – 3 out of 5 (2W,2D,1L) and winner of the Rating Prize with a performance of 1920. Well done Oli!
Rapidplay – 5 out of 9.

Chirag Hosdurga

U14s – 3.5/7 (3W,1D,3L). A tough junior section and a respectable performance from Chirag.
U2050 – 3 our 5 (3W, 2L). A solid performance.
Rapidplay – 5 out of 9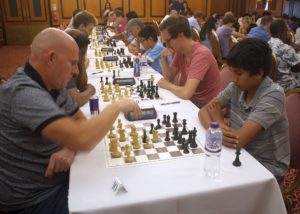 Toby Kan

U12s – 5 our 7 (4W,2D, 1). A strong performance from Toby, finishing 4th losing only one game to eventual winner Yichen Han and only just missing out on 3rd.
Rapidplay – 4.5 out of 9

Kandara Acharya

U12s – Although only 10, Kandara stepped up an age group to compete in the U12 finishing on 1.5/7. Although a low final score, this does not reflect Kandara's solid play and tenacity in each game.
U100 – 3 out of 5 (2W,2D,1L). A great performance for Kandara, fighting for a placing until the last round.
Whilst our juniors had a great opportunity to play some quality chess and test their abilities, it was also great to see them team building and having fun too.
Well done to all our juniors!
Finally, although the long drive up north was tiresome (and the drive back), our juniors and their families had a fantastic time in Hull.  The city had put in a lot of effort arranging many social events including film nights, city walks, outdoor chess and visits to local attractions. Whilst chess was the main focus, the Bristol Juniors and their families were great company enjoying meals and other activities together. Thank you to all the juniors and their families for a wonderful week in Hull.  There has been many great memories.