March 2007
26th March - The final round of the Somerset Junior Chess Grand Prix will be at King Edwards School in Bath.
Saturday 31st March Download Entry Form
Contact: Chris Strong - Tel 01761 462416 ( Blagdon School ) or home Tel 01761 462277
23rd March - Results File Updated Download Results
Clifton A & Horfield A locked in a battle for Division One Title
23rd March - West Of England Congress - April 6th - 9th Download Entry Form
Further Details on Calendar
18th March - North Gloucestershire Winter Swiss Tournament (31st March - April 1st)
Xerox Social Club, Mitcheldean, Forest Of Dean Download Entry Form
11th March - Simul Photos Mickey Adams Profile List of Competitors Playing
The weather was fine and sunny as the British No 1 arrived in Bristol's Broadmead Shopping Centre to take on many players from the Bristol League. Playing well over 30 players under the marquee Mickey Adams won most of his games but had to concede one game due to blundering a Rook.
Amongst the lucky ones that managed Draws were Nigel Wilcox and Humphrey Andolo from Downend chess Club and Andy Pickering from Clifton Chess Club and Graham Wilkinson of Clevedon. I tested out Mickey in a Schliemann variation of the Spanish and should have got at least a Draw until he found the only move to salvage the game putting his Queen on Prise to steer the game his way.
A selection of photos can be viewed above as we prepare a cd which will contain hopefully all the games and over a 100 photos of the event.
Chris Beaumont's Blindfold event attracted many onlookers as he did what many would find impossible. Tyson Mordue and Megan Owens took on members of the public on large outdoor sets as a build up to the simul.
Dave Tipper
Many thanks go to the Event Organiser Pete Saunders & his wife who have put in a tremendous amount of effort to ensure the event was a success. Tel: 0117 9079215 chess@saundersmedia.f9.co.uk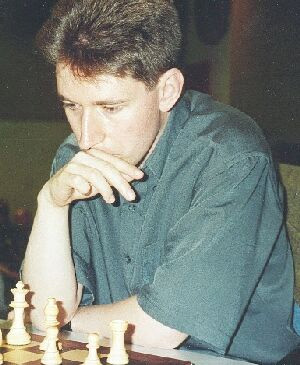 4th March - Results xls updated